From Churn to Earn: Disrupting and Democratizing Distribution–LibDib's First Seven Years
Churn, baby, churn. That's the inefficient cycle wine marketer Cheryl Murphy Durzy found herself in as the marketing person for her family's winery more than a decade ago. 
"I spent almost 20 years working at my family's winery managing the distribution channel," she said."The first ten years of it was great." But once distributor consolidation set in in her second decade, life was difficult.
Before and After
"I used to be able to go into a distributor, get to work in the market, be able to have my own relationships with accounts," she said. "Once consolidation started happening, the small to mid sized distributors were getting bought by the big ones, or the small ones were ceasing to exist or not able to pay on time."
"There was just a never ending circle of starting in a market and then having to switch a wholesaler or losing a wholesaler and then losing everything and having to start in the market all over. So any investment that I had put into the market would go away within a couple of years, because there was some kind of change in the distribution relationship."
Her frustration became unbearable.  "There just has to be a different business model," she said, "where a winery or distillery can really almost act as their own distributor." The biggest challenges to an alternative were compliance and operations issues.
She decided to start a company to help wineries who just need to get product from point A to point B in a compliant manner. "The kind of companies that don't necessarily need to have hundreds of $1,000s worth of inventory at a bunch of warehouses throughout the country and track all that," she said
Today LibDib, the company she started in 2016, is a solution for 400 wine brands in 14 states (along with about 800 spirits producers).
The technology challenge was formidable. "Every state has different laws, regulations, tax rates, requirements–everything is very different. It's 50 different markets, it's like 50 different countries," she said. 
A giant leap forward came in 2018, when LibDib partnered with distribution giant RNDC on LibDib's technology platform. Later, in 2021, the two companies created LibDib@RNDC, a new sales division within RNDC markets, providing a distribution option for both established RNDC suppliers, as well as new and emerging brands, where suppliers could incubate and eventually graduate brands to RNDC.
Durzy said the RNDC relationship also helped LibDib become a better distributor on the logistics and compliance side, too. "I didn't really realize that it is not easy to be a distributor. You have to buy from someone, you have to sell to someone else, you have to file taxes, you have to get something that's usually heavy, liquid, and glass that can spoil in heat, or cold–that's highly regulated–to a place within a specific period of time. And it's breakable. So it's like the worst conditions of every single product or all in one product," she said.
With RNDC in place, things have scaled up considerably and many smaller brands can reach a much larger marketplace–30,000 buyers–on the platform.
"One of the biggest surprises was that the chains would want to work with us. I kind of always imagined it was going to be like small independent retailers and restaurants wanting to work with small independent wineries and distilleries. I was completely wrong," she said.
"Now we work with all the big chains around the country. We work with the airlines. We are in 14 states…any winery and distillery can have distribution in those states just by signing up on LibDib." The company continues to launch in two to three more states each year.
Durzy said big chains have found they can better monetize smaller brands. 
"The big chains want to support small brands because they are very interested in finding unique things that are either locally made," she said, "It makes them more money than just the traditional brands. So that's a big part of it for them as well."
Graham and Fish: Explosive Growth for Canned Wine Producer Accelerated with LibDib
Millennial entrepreneurs Graham Veysey and Fisk Biggar launched their first canned wine label, ManCan, in 2016, "selling store to store and bar to bar in the Bay Area, out of the back of a 1969 COVID Ultra van," said Biggar. Today their Graham + Fisk brand is on track to sell 40,000 cases this year, leveraging both LibDib and RNDC which have accelerated their growth.
"When we launched in 2016, everybody said we were crazy–no one would drink canned wine…We started in this space when it was a less than $10 million industry, and now it's a $230 million industry," he said. "Fast forward eight years and we've won eight Best Buys from Wine Enthusiast magazine and Graham + Fisk is a brand that can be found nationwide in retail and direct to consumer."  
Biggar says the two were clear that they needed to have "a quality of a wine that really punches above its weight class and focuses on the on premise portable occasion. For us, it's hospitality. That covers everything from amusement parks to concessions to grab and go, to casual restaurants, bars, and sports bars.
The passionate founders were able to convince RNDC to take them on. Seventy percent of their business is on premise. Their Wine in a Can label carried at Dave and Busters (151 arcade and sports bar locations), Marriott Vacation Club (a 40 location national chain of fractional properties), and Howl at the Moon (a piano bar chain). Thirty percent is DTC.
Biggar estimates that about 10-15 percent of their sales is on LibDib today.
"They service us in our wholesale distribution. What they did for us was a key component for us when we started to get our first national accounts. As an independent, emerging brand, scaling distribution is one of the more difficult things to do. Distributing with them was turnkey for us. By being listed on their platform, other retailers, both regional or independent, have access and are able to easily buy. Being able to easily direct through them, it's easier to turn these national account buyers onto it."
Biggars sees two other major benefits to using LibDib, One is wholesale customer service. "The nicest part for us is that by LibDib acting as the direct contact as the wholesaler, and having the live team, we are able to have a customer service bridge that we didn't normally have," he said. 
Another is viewing real time sales data. "Instead of waiting, it's at our fingertips, we can see account velocity, we can see account velocity trends," he said.
The tiny, Indian owned winery Naidu, in Sonoma, is another fledgling winery that's a LibDib client. 
What's Ahead 
Durzy looks for continued geographic growth, but also speeding up delivery times. 
"One of the things I really want to work on in the next 12 months is lowering the time of shipping," she said. "We figured out early on that we needed to integrate shipping into the platform, because buyers want to know where their products are at all times, right? Our average time of getting products from one place to another is about seven days. I want to bring that down to four days…which for not having anything in inventory is pretty cool. I think that we can work with our logistics partners and our warehouses and our suppliers to do that."
Durzy said success came on the heels of doing things right. "I've just got really, really smart people on my team that are willing to spend the time and the cycles to figure out the right way of doing things," she said. And she's found the wholesale industry to be pretty collaborative. "Even though there's a lot of fierce competitors, they get together at the right times of the year and talk about the different things that they need to do to fix their industry and change things for the better," she said
Are Wineries Catching On?
That said, wineries are slower than spirits producers to catch on to the LibDib platform, Durzy said.
"Wineries are not as willing to invest in distribution–that's what I've seen. They don't invest as much in their sales and marketing efforts, like advertising. Or they get their scores, and they're like, great, it should just be selling," she said. 
"Whereas distilleries are a lot more innovative with email marketing, website marketing, programming, partnerships, and also having ambassadors' feet on the street. They hire bartenders to go out during the day and showcase their products to accounts." 
"It's like my dad, who is a very wise man, when he says there's three things to winemaking–you have to grow it, you have to make it, but you have to sell it, and if you don't do one of them right, the whole thing's not gonna work, right? They're all equally important."
She elaborated, "Wineries are a little hesitant to see 'Oh, I have to do my own sales.' They just think they can sell a couple pallets to a distributor and the distributor will sell it for them. But that's not really how it works anymore. But I do think that wineries are coming around because I've seen a huge increase in my wineries in the last year."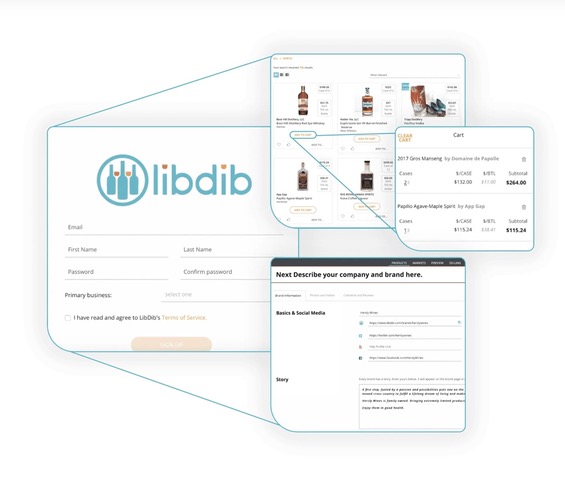 Original article can be found here.